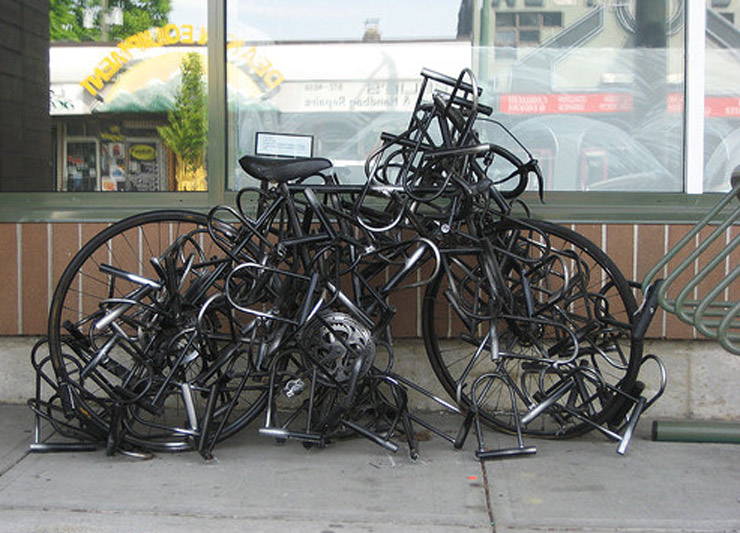 How to securely lock your e-bike

Before your ride, plan your trip and know where you're going. Are you going to a friend? Ask if you can put your bike in their garden or courtyard. You're going to a restaurant/pub? Make sure you carry your lock with you, a quick check on google map can show you if there are any bike racks around the place. If you can, park it somewhere you can keep an eye on it. You should always try to avoid leaving your bike overnight in the streets. We know for some of you it is the only option, we recommend investing in a second lock for extra protection.
If you have no options but to leave your bike on the streets, pay attention to where you're leaving it. Choose a well lit area and if possible where there are a lot of people passing by. Avoid dark streets with no traffic. If there are any bike rack with lots of bikes, check the bikes around, any half-eaten bikes laying here? Do you see broken locks bits on the ground? If so, avoid the area. A simple tip: lock your bike next to a nicer bike, thieves will always go for the most expensive and shiny bikes first.
If you can't find a rack, you can lock your bike to a pole or a fence. Always check if the pole is long enough to avoid people looping your bike from the top. If you lock it to a fence, try to find some metal that is larger than your U-Lock, it's sometimes easier for the thief to go through the urban furniture than through your lock.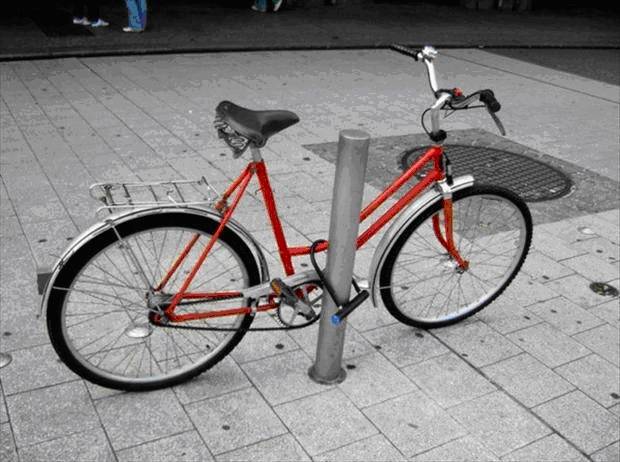 See what is wrong on that locked bike?
You should always lock your frame and at least one wheel. If you can lock both wheels that is even better. Most U-Lock comes with a loop cable that will help you do that. Remember to always use your main lock on the frame, then any secondary lock or cables goes through the wheels. If you have a long U-Lock or a chain lock, you can usually lock one wheel and the frame without the need of any cables/secondary lock. Try to have a very tight fit with your lock. Leaving too much gap can make a crowbar easy to pop the lock open.

And remember to take your battery off! The Analog Motion batteries are easy to remove from the bike.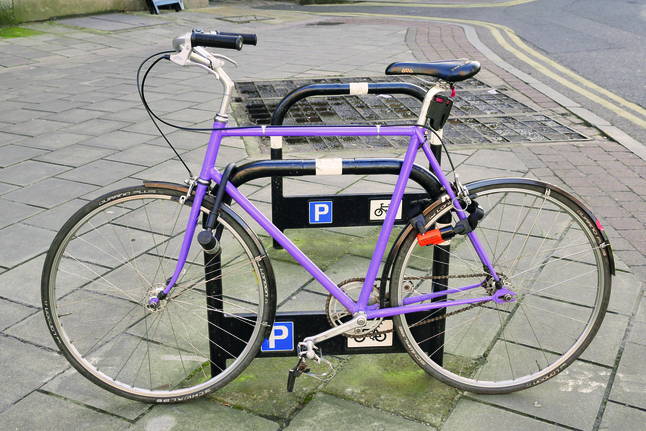 A good locked bike, front wheel and frame are both locked with the U-Lock and the rear wheel and frame goes through another lock on the rear.
Image by London Cycling Campaign
What lock do we recommend?

There is no unbreakable lock you can buy, an angle grinder will cut through any existing lock. What makes a difference is how tough your lock is and how long it will take for a thief to steal your bike. Thieves use a variety of tools, the most common being the infamous cordless angle grinder, a bolt cutter or even a simple crowbar.
Avoid thin locks or any entry level locks. You might consider buying a cheap lock as they can be quite costly but your lock is the only protection your bike will have if you leave it in the streets. A good Kryptonite U-Lock is a good benchmark, they cost around £40 and come with a loop cable to help you lock your wheels.  
Chain locks are also a good option, check Hiplok, or if you want something more compact you can check Abus Folding lock. There is tons of new brands on the market, like these flexible locks from Litelok or Tex-lock. Most locks comes with a mount that can attach on your frame so it's easy to carry it.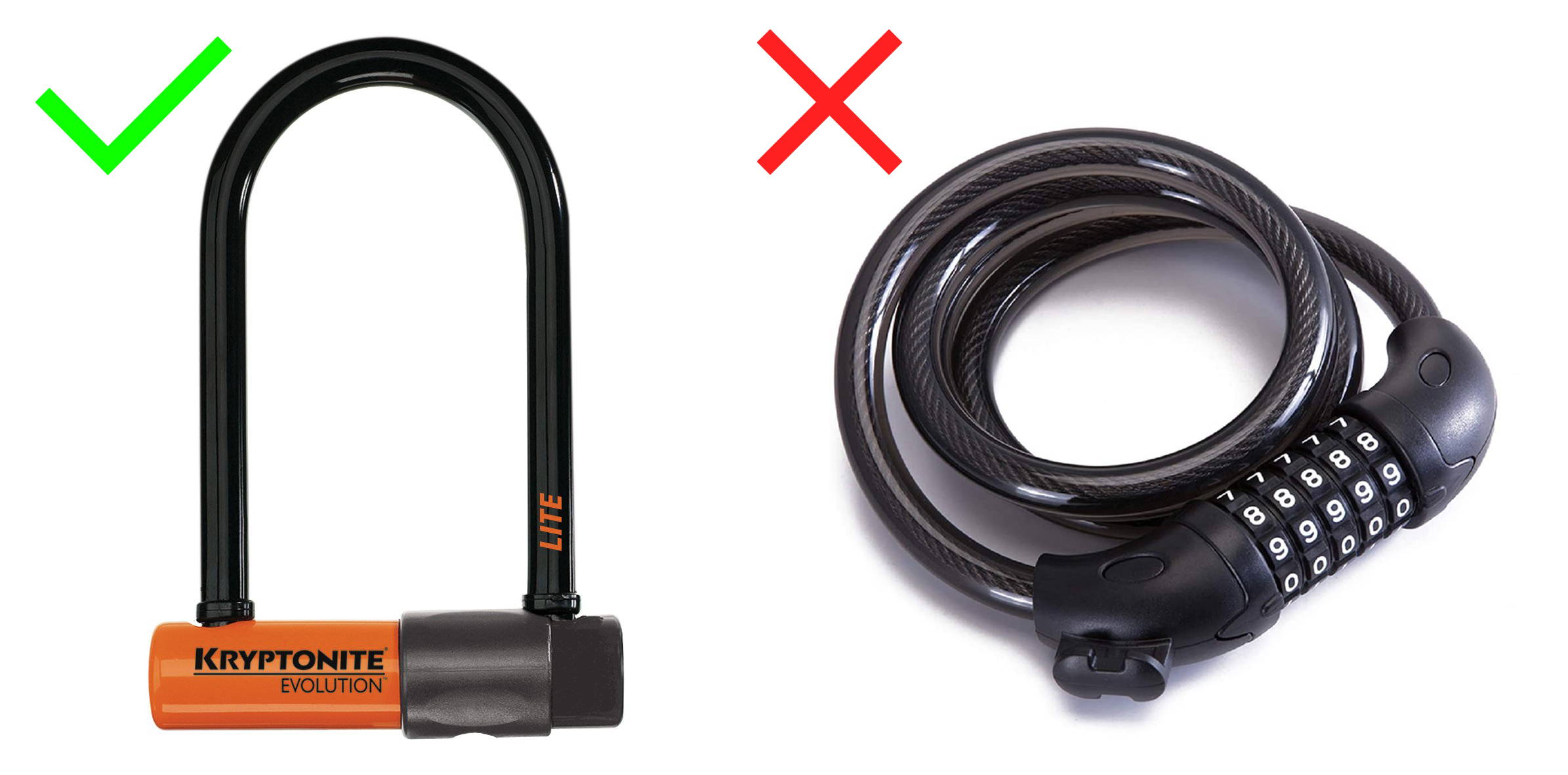 Avoid thin cable lock and prefer a good U-Lock, cable lock cam be used a s a secondary lock though.
Having two locks is always recommended if you leave your bike for a long time. Two locks will always be harder to go through than a single lock for a thief.
And remember there is no invincible lock on the market.
It is best to register your bike, you can do it easily in UK at BikeRegister. That will help the police find the owner in case your bike get stolen. If you need to insure your AMX, the serial number can be found under the bottom bracket.